Black Mount Panoramas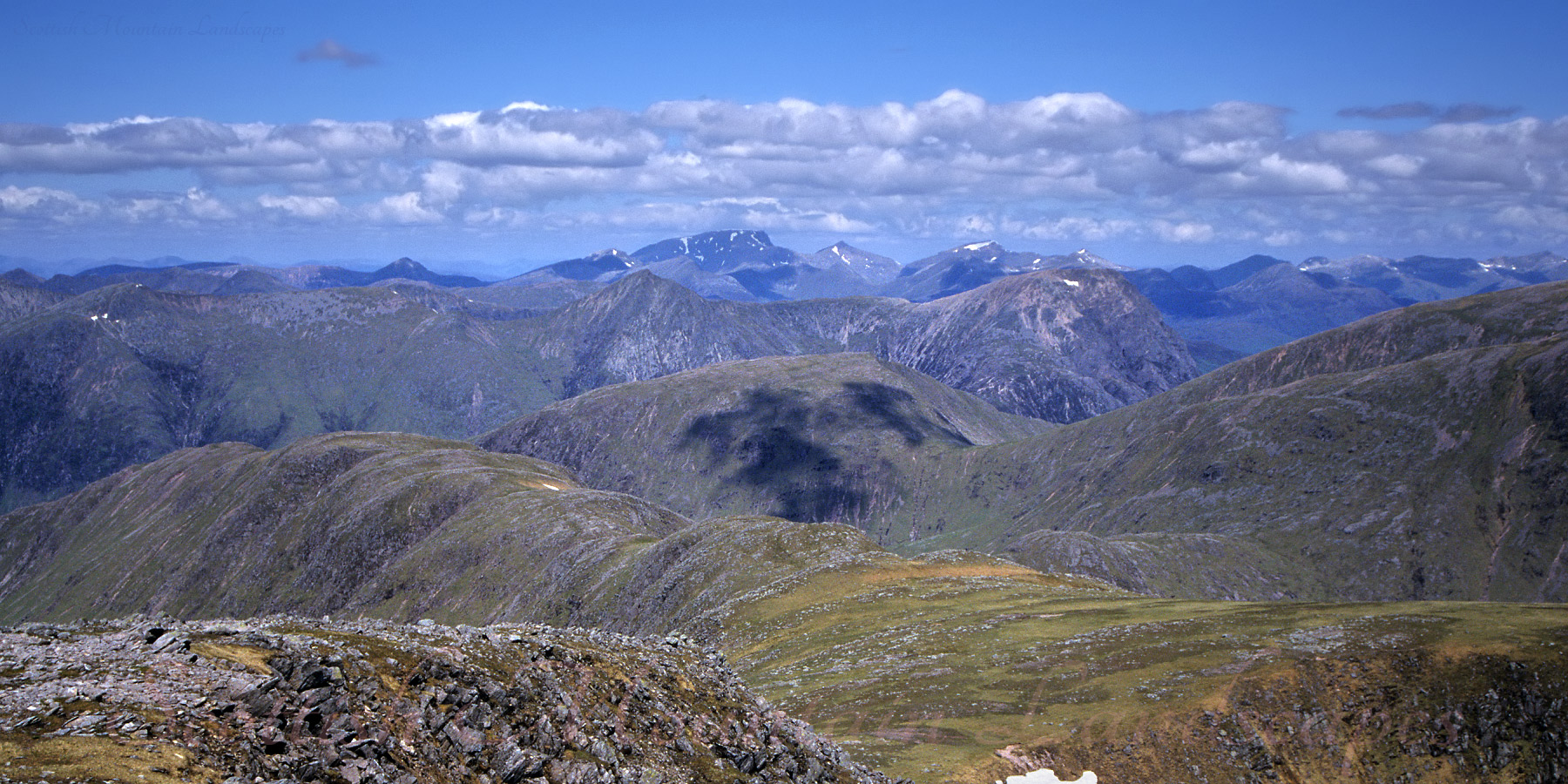 Click on the image to enlarge.
Looking north from the summit of Stob Ghabhar.
In the middle distance is the the Buachaille Etive Mòr ridge (L-R): Stob na Bròige, Stob na Doire, Stob Coire Altruim and Stob Dearg.
The large peaks on the centre skyline are (L-R): Ben Nevis, Càrn Mòr Dearg and Aonach Beag.
On the right skyline are the Grey Corries: (R-L): Stob Choire Claurigh, Stob a' Choire Lèith, Stob Coire Cath na Sìne, Caisteal, Stob Coire an Laoigh, Stob Coire Easain, Sgurr Chòinnich Mòr and Sgurr Chòinnich Beag.
Translations Of Gaelic Names:
| Gaelic Name | Translation |
| --- | --- |
| Stob Ghabhar | Goat Peak |
| Buachaille Etive Mòr | Big Herdsman of Etive |
| Stob na Bròige | Peak of the Shoe |
| Stob Dearg | Red Peak |
| Ben Nevis | possibly old Gaelic: Venomous Hill |
| Càrn Mòr Dearg | Big Red Hill |
| Aonach Beag | Little Ridge |
| Stob Choire Claurigh | Peak of the Brawling or Clamouring Corrie (possibly from Gaelic clamrhas - brawling or clamouring) |
| Stob a' Choire Lèith | Peak of the Grey Corrie |
| Caisteal | Castle |
| Stob Coire an Laoigh | Peak of the Corrie of the Calf |
| Stob Coire Easain | Peak of the Corrie of the Little Waterfall |
| Sgurr Chòinnich Mòr | Big Peak of the Moss |
| Sgurr Chòinnich Beag | Little Peak of the Moss |